The beauty of creating, of being creative, of creative thought, of exploring our creativity is that:
ability does not matter

there is no right or wrong way to be creative,

there is no good or bad way

and as we saw last week there are many ways to be creative.
Last week there was a lot of creative talent in one small article:  "A Pink Bunny, Creativity and Brain Injury". It made me realise the topic "creativity and brain injury" seemed irrelevant in a way – not the creative bit, the brain injury bit.
The creative talents of the artists last week showed that to be creative was the focus, brain injury was a very distant second.
Let's Focus on How to Be Creative First
and Brain Injury second.
As I read about the creative achievements of my guests last week I realised I had not thought about being creative for myself.  I keep telling myself I am too busy to be creative. Yet really I think it is that I am a little fearful – what if my creative bones don't work anymore? While I have done all kinds of stuff in the past, I don't know where to start now.
Does that sound familiar?
This reminded me that creative talents in each of us, (brain injury or not) need support, encouragement, and the right environment to expand and allow us be creative in the way we choose.
With this in mind I began reviewing some of the interesting articles I had read about creativity and creativity and brain injury.
Today, as a starter pack, I am sharing some of what I found on creativity ramblings through the world wide web of creative information.
The definition of creativity here is not purely about being artistic. It is about finding what you enjoy creating in any sphere: cooking, writing, sewing, woodwork, singing, making or developing things etc etc.
So get inspired. Get creating. Travel your own creative path and support others to find theirs.
It would be great to share your creative path with others, we would love to here of everyone's endeavours. Please share them below in the Comments section below.
Be Creative: Inspiration from All Over
Too busy becoming creative, and don't have time to read each article?
 I have included a bit I learned from each. Please do not think this is a summary of the article, it is just one tiny sliver I gleaned from each.     A mini cheat sheet.
To read each article click on the image, or the link below it.
John Cleese talks about creativity and making uninterrupted time and space to give yourself the opportunity to create.
While John Cleese describes a very different world to the one Tchaikovsky (see below) knew, it seems they have at least one thing in common. Both recommend making the time and space to be creative, without interruption.
John Cleese reminds us of the pressures of our modern world: the pressure of immediate communication, of noise, of pace. All limiting the time we have for silence, contemplation, thinking and creating.
As part of his strategy, he recommends making time and a quiet place to give you the space to be creative.
John Cleese on Creativity  in Open Culture.
Try New Things. Give it a go.
Stick with it, and practice, practice, practice. .
Tchaikovsky expands on a belief that creativity is less about being born with a talent, and more about practice. More about sticking with something, than being born with ability.
Tchaikovsky on the "Immeasurable Bliss" of Creativity, the Mystical Machinery of Inspiration, and the Evils of Interruptions  by Maria Popova at Brain Pickings
 Make a start and keep working at it
Well put in an often quoted statement of Picasso's: "To know what you're going to draw, you have to begin drawing." 
Over-ride your doubts get started and keep going. The idea is only the starting point let it run and see where it leads you.
Picasso on Intuition, How Creativity Works and Where Ideas Come From
 Work on developing behaviours that enhance and enable creativity to flourish
We can learn from studying the actions and behaviours of people who are creative.
As an example this article lists 18 actions and behaviours creative people do differently. Use this information to provide ideas for developing new habits that encourage our own creativity.
18 Things Highly Creative People Do Differently by Carolyn Gregoire in the Huffington Post
Journalling can be a powerful and creative option for telling your own story
Writing or journalling can be a powerful way to help understand traumatic events and significant life changes such as brain injury.This information about the creative form of journalling is particularly for people living with brain injury by Barbara Stahura. the idea of journaling as both a therapeutic tool, and a creative outlet, is relevant to each of us.
After Brain Injury Telling Your Story
 Develop your own routines for creativity
For your interest. I know most of us will not be famous we just want a chance to be a bit creative.
This chart reminds us that each of us have different daily routines. What is important to creativity is to have routines that suit our needs to be creative.
The graph outlines the routines of famous creative people( I am not sure how it was compiled or if it has been verified, but it is interesting). Apart from being a fascinating exploration what I immediately noticed was that each person has quite different routines.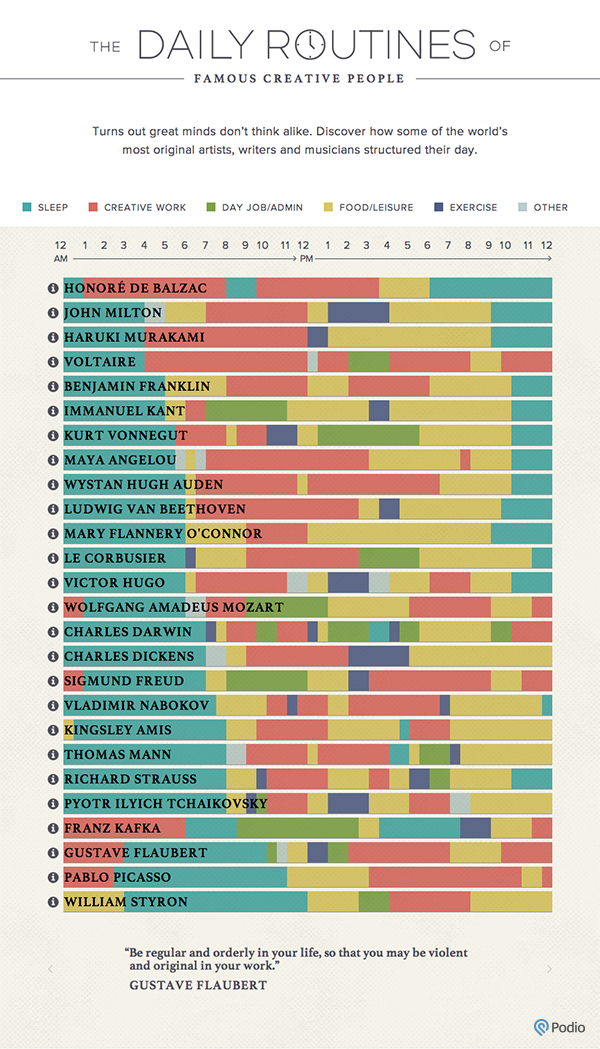 Want to develop a better work routine? Discover how some of the world's greatest minds organized their days.
Click image to see the interactive version (via Podio).
More about Creativity and How to Be Creative:
If you want more inspiration, tools and tips here are some extras to keep you going:
"Creative" a search on Daily Good 'News That Inspires" finds a range of articles
Creative and  Creativity two searches on my ever favourite Brain Pickings
In my search to find more about how to be creative I discovered there is an International Center for Studies in Creativity in the USA. Amazing I thought.
The slide presentation has interesting information on the creative brain from a website called Inside the Brain by Professor William O'Connor. 
And Finally
The Art of Brain Injury about art and artists. Introducing as many artistic and creative people as possible:
"The Art of Brain Injury" with Cheryl Green
The articles here are a sample that sparked my interest (yours too I hope) they are not all there is.
Please share any references or tips you have for being able to expand and be creative.
What about your own creative thought and passion – what has helped you to be creative?

Support the Work of Changed Lives New Journeys